to a Specialist...
Free Visit, Design & Quote
Garden Drainage Problem Solving
Soak away surface water
Complete landscape Gardening solutions
Call William: 0792 727 5538
Email: wadair@live.co.uk
Under ground drainage Systems..              

An underdrain is an underground drainage system typically referred to as a "French Drain." The purpose of these systems is to carry excess water away from the foundation toward an assigned permeable area.

Excessive water near the foundation can cause movement of the structure due to shrinking and swelling of the existing soils, especially soils with high clay content. The drain is constructed by digging a trench typically about 2' away from the structure. The depth of the trench will vary depending on the slope of the grade and location of the area where the water is being diverted. The bottom of the trench is then covered with filter fabric before the drainpipe is installed.

Underdrain Installation Typically, we will install two drainpipes - one 4" perforated sock drain to catch lateral water flow and surface water, and another 4" solid drain to carry water collected from the gutters and downpipes. After the drainpipes are in place, 12" of gravel is placed into the trench over the pipes and fully wrapped with the filter fabric. Then heavy peagravel is placed on top of the pipes up to finish grade. These systems are typically installed near structures that are downhill from neighboring properties at a higher elevation.
                                           EMAIL William: deckingdesign@hotmail.com 
---
                                  DURING THE WET SUMMER OF 2012
                         Garden drainage soakaways and storm crates.
Soakaway Set 1 Cubic Metre
Soakaway Set 1 Cubic Metre
This set is comprised of 3 Aquavoid Crates (20 Tonne Load Capacity) and sufficient Non Woven Geotextile Membrane to wrap the top and side outward facing surfaces.
As each crate measures 1m x 1m x 333mm, the dimensions of the complete soakaway are 1m x 1m x 1m. The crates are connected together using special clips to avoid future displacement.
Drainage Pipes are fed into the crates using the pre-formed knockout  sections.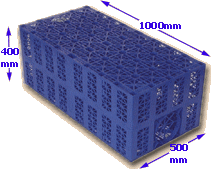 Storm crates.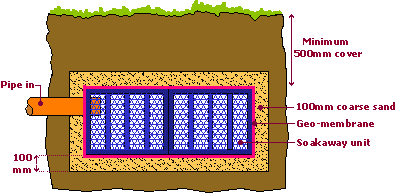 Polystorm Lite or storm crates is designed for use in landscaped, gardens, pedestrian or other non-loaded applications with a load bearing capacity of 20 tonnes. Polystorm Lite modular geocellular structures can be used for the control and management of surface water. This product is unique in that it's been designed to withstand vertical loads of up to 20 tonnes meaning that it makes the perfect solution for attenuation or soakaway applications in pedestrian or landscaped areas and gardens. Polystorm Lite modular cells are assembled together to form a structure of any shape of size to hold water either from roofs, gutters or surface drains. The modular structure can then be wrapped in an impermeable membrane (attenuation) or permeable membrane (infiltration) to control the surface water entering the tank. The Polystorm Lite units are lightweight, easy to handle and have unique rounded corners to prevent punctures to the membrane during the installation process. With the use of a silt trap and flow control device sediments can be removed before entering the tanks and then discharged at a set rate.
Pre-fabricated cellular systems:    Storm chambers or soakaways
  

 

We believe these systems will be used more and more in the construction industry as SUDS technology becomes mandatory rather than optional in the coming years, and they are a classic case of being one of those bright ideas that are blindingly obvious once you've seen them.

Ideal for garden drainage flowing outlets.
French drainage start to finish...  26m long    Jan 2013
EMAIL William: deckingdesign@hotmail.com
Lawn drainage- Solving a Soggy Lawn Problem
Lawn experts show you how to install a drainage system in your lawn with the minimum of hassle. Most drainage systems are based on agricultural systems, which can be very effective in a garden lawn or a sports ground set up.

The key to designing and installing a drainage system in a lawn is to remember that the water must be able to travel from the surface to the drain, which is installed under the lawn.

Firstly you must consider the fact that all drainage systems work because water will always flow to the lowest point, so you need to design the system so that the drainage water will drain to the lowest point in your garden – into a ditch or a soak away. To achieve this, all the drainage pipes you have must have a fall on them no less than 1 in 200 in the direction you wish the water to flow (ideally 10 mm fall for every metre of pipe laid).
To lay the main pipes you must first mark out the area from a plan that you will have needed to draw up. If you need any help doing this, please feel to contact us free advisor service who will produce a basic plan for a drainage system for you. It may seem daunting at first thinking about the task of installing this. However by following our instructions, you will be able to have a wonderful lawn once again. When your lawn is looking great you can start thinking about replanting flowers and doing various other things to make your garden the haven it ought to be. Once you have the basic plan worked out, you can start to install the system by using the following basic steps or you could us an outside company to do the work such as who will come in and do all the work for you.
1. Mark out the drain runs on the grass with some sand and cut the turf out in strips 125 mm wide and place by the side of the drain run.

2. This is best done with a trenching spade The depth should start at about 400 mm and slope in the direction of the intended flow of water, ideally at 6 mm fall per metre of trench. To test the fall, run some water from a hosepipe to the higher end of the trench and see if that water flows smoothly down the trench.
3. Once you have completed the first trench, you should fill the trench with 20 mm of 10-12 mm clean stone, then place a 75 mm perforated drainage pipe on top of it. This pipe can be purchased from a builders' merchant and normally comes in 25 metre rolls.

4. Next, back fill the trench on top of the drainage pipe with the clean stone to approximately 75 mm from the top of the trench. Next, fill the remaining space with the soil you dug out of the trench, firm it down and replace the turf. When back filling the trench, it is important not to spill the stone on the grass, as this will damage your lawn mower.

5. The next stage is to make a series of slit trenches at right angles at the drainage pipes across the lawn with a spade at 400 mm centres, about 75 mm deep and fill them with a washed sand. It is important that the slits connect with washed stone over the main pipes – you should be able to feel the stone with the spade as you form the slit.
6. The final stage needs to be carried out over a number of months. It involves top dressing the lawn with a washed sand over a number of months to build up a carpet of sand at the base of the grass plants to allow the rainwater to move freely on the surface and down the sand slits into the drain.
There is a huge range of fittings available for all types of drainage systems. These include gullies, hoppers, traps, bends, and junctions as standard items, as well as access chambers, rodding eyes and inspection chambers which are designed to grant access for inspection and/or maintenance. Manholes tend to be larger chambers (at least 600mm width), with half-pipes known as 'channels' set into the base
AS DRAINAGE EXPERTS WE KNOW GARDEN DRAINAGE AND LAND DRAINAGE IS VERY IMPORTANT AS WE HAVE NOW SEEN IN MAJOR URBAN AREAS FLOODING WHERE PREVIOUSLY THERE WAS NO FLOODING,THIS IS DUE LARGELY TO NON EXCISTING DRAINAGE,WHEN BUILDING YOUR GARDENS INSTALL UNDERGROUND DRAINAGE IT WILL STOP WATER LIEING ON TOP AND HELP KEEP YOUR PRISED GARDENS DRYER,AND WATCH YOUR NEIGHBOURS SIGHS AS THEIRS HAS PUDDLES ALL OVER THEM,
ONE DAY US DRAINAGE EXPERTS WOULD LIKE TO SEE ALL STORM FROM NEW BUILDINGS LEADING TO CENTRAL RESVOUIRS KEEPING THESE TOPPED UP WOULD GREATLY REDUSE THE DEMANDS ON THE LOCAL WATER RESERVES BUT THE POWERS THAT BE STILL HAVENT DECIDED DRAINAGE ISNT AS IMPORTANT AS WE AT DRAINAGEEXPERTS KNOW IT IS.NOW ALL NEW DEVELOPMENTS HAS TO CATER FOR STORM WATER,COLLECT,REUSE AND TREAT STORM WATER AT SOURSE.
           WORK IS GUARANTEED
we have been listed under the following titles near Glasgow, north Lanarkshire, south Lanarkshire,Lanark,clyde valley, motherwell, hamilton, Renfrewshire, wishaw, Ayrshire, Eastkilbride,Coatbridge,Livingston,Peebles,Falkirk,  - Decking joinery ideas - garden decking - patio decking joiners- timber decking joiners- Landscape gardening - landscape-balmore- Dunbarton-gardeners - gardening landscape - garden landscaping -livingston-bathgate-stirling-dumbarton- garden landscape - landscapers - garden improvements - 
driveways
- paver contractors - garden fencing - garden fence - patio - patio decking - decking patio - pond features - decking installers - garden services - garden designer-bradstone paving-marshalls paver-balustrade handrail-east kilbride-decking glasgow-decking in glasgow-sheds-summerhouse-summer houses-cumbernauld-stirling-Dunbartonshire. great prices on all 
decking
and landscaping.Balmore,block paving driveways,east ,area ,dunbartonshire,Giffnock,Clydebank,Erskine,Bellshill,Auchinloch,Greenock,Helensburgh.